23.08.2016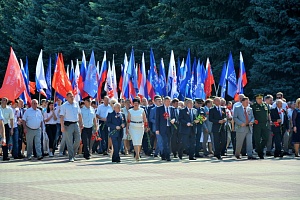 23 August was the 73rd anniversary since the victorious end of the Battle of Kursk - one of the bloodiest battles of World War II and the largest tank battle. On this day in the city of Kursk and in all districts of the Kursk region there were celebrations to mark this event. They were attended by staff and veterans of IDGC of Centre – Kurskenergo division.
The power engineers held a moment of silence in memory of the heroes and laid flowers at the Memorial of the Fallen in the Great Patriotic War of 1941 - 1945 in Kursk. They also participated in the ceremony of laying flowers to the monument to the legendary pilot, thrice Hero of the Soviet Union Ivan Kozhedub in Medvensky district, the obelisk "Unknown Hero" in Solntsevsky district, the memorial complex "Heroes of the North Face of the Kursk Bulge" in the settlement of Ponyri.
The Battle of Kursk lasted for 50 days and nights, from 5 July to 23 August 1943. And power engineers also made a significant contribution to its outcome. Employees of the Central power station in the city Kursk in difficult conditions, in spite of the shelling and bombing, worked day and night to continuously supply power to the railway station, the armoured vehicle repair facility and numerous military hospitals of the frontline city.
"Today we remember and honour all the participants of this great battle, those who helped forge victory in the frontline rear. We are proud of their feat. Eternal memory to the heroes, glory of our winners," says Deputy General Director of IDGC of Centre – Kurskenergo division director Alexander Rudnevsky.