22.08.2016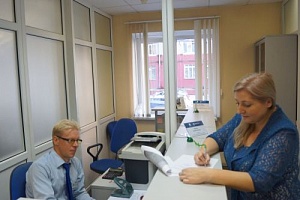 During the first half of this year IDGC of Centre – Smolenskenergo division signed 7,315 contracts for the provision of value-added services (which is 70% more than in the same period of 2015). Thus, revenues from the sale of value-added services continue increasing and amounted in the reporting period to 61.13 million rubles.
Today Smolenskenergo provides its customers with services for installation and replacement of metering equipment, operational and maintenance of electrical networks, street lighting networks, services for reconstruction of facilities, testing and diagnostics of equipment, electrical safety devices, performance of work related to the customer's competence in the implementation of grid connection procedures (Grid connection support) and others. The most popular among residents of the Smolensk region were the services for replacement and installation of electricity meters in the first half of the year (4,719 requests were received), and the Grid connection support (1,262 requests).
"Smolenskenergo provides customers with a number of value-added services different from its core activities. Realizing its responsibility for uninterrupted supply of electricity, the branch strives to fully meet customer demand. Provision of value-added services, on the one hand, helps the company to obtain additional funding to modernize power grid facilities, on the other - allows consumers to get professional assistance," stresses the head of interaction with customers of Smolenskenergo Alexander Wojciechowski.
Smolenskenergo pays special attention to improvement of customer service quality, which is achieved through regular training seminars and certification of personnel responsible for customer interactions. The branch also reviews customer feedback on the work performed. During the first half of the year the branch received 5,084 positive reviews, more than half of which (2,612) on the work performed to provide value-added services.
All necessary work is carried out by qualified personnel strictly in accordance with technical regulations and standards. Smolenskenergo has specialized equipment, all required permits and licenses, as well as materials and equipment, allowing to perform work of any degree of complexity with provision of guarantees for all kinds of services. For all issues related to the provision of value-added services you may contact the straight line of power engineers of IDGC of Centre at 88005050115 (toll-free), and customer service offices of Smolenskenergo.