19.08.2016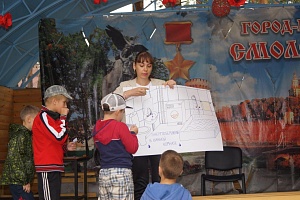 Staff of IDGC of Centre – Smolenskenergo division in mid-August, during a power-saving lesson told children being on holiday in the camp "Change", on how to save energy, available to everyone. The power engineers explained to the children the basic rules of energy conservation. In addition, the campers learned about the need to turn off their chargers for mobile phones, tablets and other equipment as they consume power even when not in use.
The power engineers in an easy and detailed form in a game explained to the children how to use electrical appliances in everyday life. To do this, the children were divided into three teams competing with each other, each of which had a task correctly, in details and faster than others to talk about ways to save energy, heat and water based on an example of a city apartment. Three layouts showed a bathroom, kitchen and living room, where lights were on and a variety of appliances were used. Members of each team wrote on slips of paper the rules of energy efficient use of appliances and consumer devices, drawn on their layout and stuck them to the appropriate drawing. After this, in turn, the team said the rules to save energy in their simulated room to the other children. At the end of the game all participants received branded leaflets on energy saving regulations as a souvenir.
The power engineers hope that the campers have received basic knowledge of energy efficiency and proper operation of electrical appliances, which they will use on a daily basis. The lesson was intended to teach the younger generation to take care of energy resources and rational use of energy in everyday life.