17.08.2016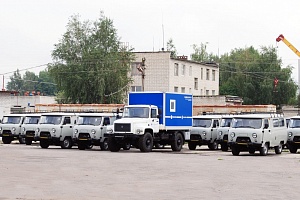 IDGC of Centre - Kurskenergo division upgraded its car fleet. The power company received 21 UAZ vehicles, one crew car on the chassis of GAZ-33081, and an all-wheel drive GAZ-27057.
All the purchased equipment is designed for the transport of emergency repair and operational mobile crews, special equipment and tools. Among its advantages - increased manoeuvrability in difficult weather conditions and hard terrain areas. At the same time the motor-vehicles are equipped with everything necessary to create comfortable conditions for staff at any time of the year.
The new all-wheel drive GAZ-27057 will replace the outdated GAZ-66, which houses a laboratory of the diagnostics crew.
"Similar makes of motor vehicles are already being used by our staff in their work. These cars have passed the test of time, they are reliable, no complaints in the work on the part of drivers and crew members," stresses the head of the inventory and logistics office of IDGC of Centre - Kurskenergo division Oleg Skrynnikov. "Therefore, the fleet renewal will be a good help for electricians in the context of the forthcoming autumn-winter operation period, when power engineers are required to maximize efficiency in the liquidation of process violations."
Currently Kurskenergo's motor fleet consists 686 automotive and specialized vehicles, which can significantly improve performance, quality and efficiency of work of maintenance personnel of Kurskenergo and accordingly increase the reliability of power supply of consumers of the Kursk region.