08.08.2016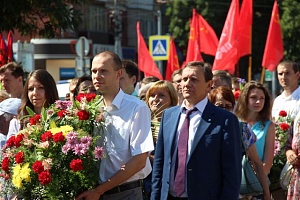 On 5 August, the day the 73rd anniversary of the liberation of the city of Orel from Nazi invaders staff of IDGC of Centre - Orelenergo division took part in a solemn meeting in memory of the historic memorial complex "Square of Tank Crews".
The power engineers laid a wreath in memory of the Soviet soldiers who gave their lives for the liberation of Orel, and paid tribute to the fallen with a minute of silence. The meeting ended with a solemn ceremony of bringing and hoisting a duplicate of the Red flag of Victory.
"It has been more than 70 years, when the Great Patriotic War ended, but its memory lives, passing from generation to generation. The sacred duty of each of us is to remember the heroic past of our great country, to be proud of the unparalleled feat of the liberators of our hometown, worthy to continue the traditions of our fathers and grandfathers, who gave us the right to a peaceful happy life," stressed Acting Deputy General Director of IDGC of Centre - Orelenergo division director Igor Kolubanov.