08.08.2016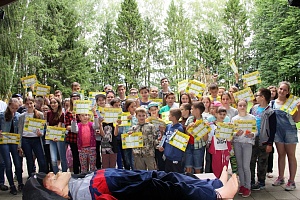 In the name of Acting Deputy General Director of IDGC of Centre - Bryanskenergo division director Alexander Kosarim a letter of thanks was received from staff of "Sanatorium - health and recreation resort "Salyn". Workers of the health institution expressed their gratitude to the energy company for the held in July electrical safety lesson, attended by more than fifty school children aged 7 to 15 resting in the sanatorium.
"Concern about the health and safety of the younger generation is a national priority, bringing together educational institutions and one of Russia's largest power grid companies. I would like to express to you my deep gratitude for the fact that in addition to its direct activity - ensuring uninterrupted power supply of the Bryansk region, your organization finds the time and opportunity to teach children the rules and skills in the field of health and safety," notes the letter.
Bryanskenergo performs large work to prevent the occurrence of injury to third persons at electric grid facilities. Particular attention is paid to work with children. Prevention activities are conducted year-round by the power company: in the academic period - in schools, during the summer holidays - in children's leisure facilities. Since the beginning of this summer Bryanskenergo's experts have conducted more than 80 electrical safety lessons in health and school camps in all districts of the Bryansk region. Their participants have been schoolchildren from all over the Bryansk region.