17.06.2016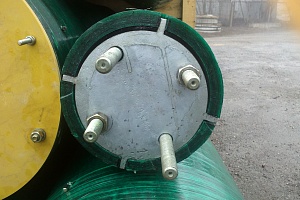 IDGC of Centre - Lipetskenergo division will perform construction of a 10 kV power line in the Lipetsk region with the use of polymeric poles.
It is currently under design and survey work, at the end of which the energy company will start installation of poles. The 10 kV poles are scheduled to be put into trial operation for September this year.
Another power line with polymeric poles, but high-voltage, 110 kV, will be designed in the next year for construction in Dobrovsky district.
The use of polymeric poles is designed to reduce the cost and time of construction and installation works.
Developed by one of the largest Russian manufacturers of high voltage equipment on request of IDGC of Centre the polymer pole can be used in remote and hard to reach places. The assembly and installation of power lines on such poles does not require large expenditures of labour and use of specialized equipment. They may have a particular advantage in the construction of overhead lines in confined spaces of urban development.
The project is being implemented within the Innovative Development Program until 2016. In the case of a positive assessment of the prospects for the use of the poles the experience of Lipetsk power engineers will be replicated to other branches of IDGC of Centre.
"The purpose of the use of innovative equipment is upgrade of electric grid facilities to the level of world standards, ensuring minimal wear of grids and further improvement of the reliability of power supply to consumers," commented the head of the perspective development office of "Lipetskenergo" Oleg Seredkin.