16.06.2016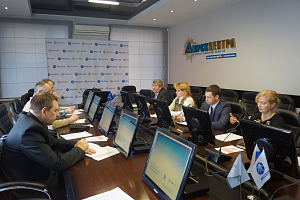 15 June 2016 IDGC of Centre - Smolenskenergo division held a roundtable within the second Entrepreneur's Day. During the event the power engineers discussed future plans to increase the availability of connection for legal entities to electric grids of the company. The meeting was attended by representatives of small and medium-sized businesses of the Smolensk region and Smolensk regional branch of the All-Russian public organization "OPORA RUSSIA", headed by its leader Elena Moskovtseva.
On behalf of the branch of Smolenskenergo leaders in areas of grid connection and capital construction spoke, there was a meeting of the head of customer interaction Alexander Wojciechowski.
The main questions were the current procedure of grid connection of applicants of the category of small and medium-sized businesses, the possibility of "Turnkey grid connection", events implemented by the company in terms of creating favourable conditions for business.
According to Alexander Wojciechowski: "Smolenskenergo does active work on connection of small and medium-sized businesses. So in 2015 Smolensk power engineers performed 92 grid connection contracts for business facilities with the maximum connected power from 15 to 150 kW, and in the past 4 months of 2016 the work was completed under 21 similar agreements."
Business representatives said that participation in the "Entrepreneur's Day" strengthens feedback, pieces of advice on specific issues have been received, and the best solutions to current problems have been chosen. The businessmen also paid attention to the fact that the grid connection procedure became more available and easier.
In the near future Smolenskenergo's specialists plan with a number of business associations to discuss plans for further joint work to increase the availability of connection to grids of IDGC of Centre.
If you have any additional questions to the company, consumers can contact by the around the clock phone and direct toll-free line of power engineers at 8-800-50-50-115 or via the Internet-reception at http://www.mrsk-1.ru/customers/customer-service/feedback/, as well as at customer service offices.