16.06.2016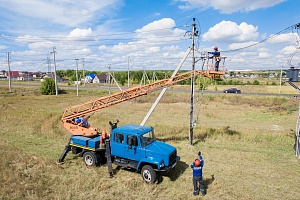 In preparation for the next autumn-winter operation period IDGC of Centre - Belgorodenergo division has started reconstructing power grids in rural areas. It is planned to optimize power supply circuits of 20 settlements of the region. More than 442 million rubles will be spent for these purposes.
Integrated reconstruction will be performed at more than 160 km of power lines located in 11 districts of the Belgorod region. The power company will replace not only wires and electric poles, but also install modern transformer substations, mount energy-saving fixtures and an automatic outdoor lighting control system, replace entries in houses and obsolete electricity metering devices. Lines that pass through yard territories or children's care centres will be brought to a safe distance.
The greatest volume, over 35 km of lines and 17 transformer substations, will be upgraded in the villages of Lomovo and Sheino in Korochansky district. This will improve the reliability of electricity supply to consumers and socio-cultural facilities. The technical re-equipment program also covers the villages of Kaplino, Pushkarnoye and a number of streets in Belgorod, Stary Oskol and Gubkin. They have already completed the reconstruction in Warm Wells. Last year 20 km of overhead lines of 0.4-10 kV were practically reconstructed there, this year about 8 km are still to be performed.
Every year the modernization and reconstruction program covers dozens of settlements in the region. During its implementation dilapidated and end-of-life grids were reconstructed in 180 small villages and towns in the region. Local residents stopped complaining about the quality of the electricity supplied and the number of trips was reduced to a minimum.
It should be noted that all of the work at power facilities is performed with full de-energization. In the afternoon hours while reconstructing electricity supply is limited, but in the evening it is for sure restored. The schedule of planned outages is posted on the official website of IDGC of Centre, as well as on websites of administrations of municipal districts of the region. Necessary information about the reason for the lack of electricity is also available by the direct telephone line of Belgorodenergo at 13-50.