06.06.2016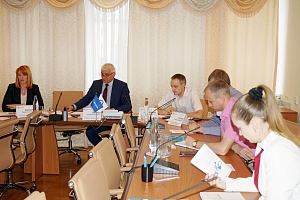 IDGC of Centre - Kurskenergo division hosted a regular roundtable for representatives of small and medium-sized businesses of the Kursk region on simplification of the power grid connection procedure.
The participants discussed what problems consumers face in the performance of grid connection contracts. In particular, they touched upon the correct sequence of actions for the implementation by the parties of the grid connection contract obligations, the cost of services and the procedure for granting discounts to deliver it.
The head of grid connections of Kurskenergo Mikhail Filipkin explained that the right to preferential grid connection of 550 rubles is given to the consumer, who has submitted an application for grid connection of power installations up to 15 kW inclusive for 1 power supply source. The distance from the site boundaries of the applicant to electric grid facilities should not be more than 300 metres in cities and urban-type settlements and not more than 500 metres in rural areas. If the consumer later needs to increase the power of the previously connected installation, and it will exceed 15 kW or the above distance, then the calculation of payment for grid connection will be made in accordance with the tariff plan. Calculating the cost of the grid connection of applicants up to 150 kW is produced at reduced rates, approved by the Committee on Tariffs and Prices of the Kursk region.
Entrepreneurs were interested in additional services of Kurskenergo, in particular - the cost of services "Grid connection support", implying the implementation by specialists of the branch of all activities, certain technical specifications, and is in the customer's competence. As the head of customer interaction of the branch Marina Zhilenkova said, it depends primarily on the wiring diagram. Thus, the estimated cost for a single-phase input (220 V) is 19.253 thousand rubles, for three-phase (380 V) - 26.009 rubles. During the meeting one of the participants signed an application form "Grid connection support".
At the end of the roundtable, Deputy Director for Sale and Development of Services of Kurskenergo Sergey Sevryukov reminded the participants of the importance of correct identification of the scope of the declared capacity and reliability category, as well as the timely execution of their part of technical specifications. "This eliminates the undue costs of creating unclaimed grid infrastructure and increases the efficiency of the company in terms of grid connection," he stressed.
Complete information on grid connection issues and additional services of Kurskenergo can be found by contacting the Customer Service Centre of the branch (CSC) at Kursk, Karl Marx Str., 27, or in Distribution Zones.