19.03.2015
IDGC of Centre - Bryanskenergo division approved the program of clearing ROWs along power lines for 2015. During this period the power engineers intend to clear from shoots 794 hectares of ROWs along overhead power lines (Conductors), including 573 hectares of ROWs along 35-110 kV Conductors. Currently, this work has already begun.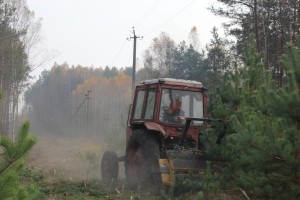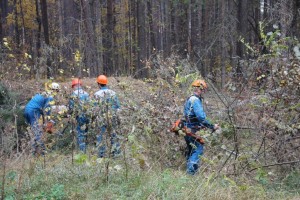 Clearing and extension of ROWs along power lines is needed to ensure reliable and uninterrupted power supply to consumers. With strong gusts of wind trunks and branches of trees that have fallen onto overhead lines can damage the power supply equipment and cause technological disturbances. To prevent this, Bryansk power engineers annually clear from shoots thousands of hectares of ROWs. In total, from 2009 to 2014 Bryanskenergo's experts cleared 5,019 hectares of ROWs. The expansion area to the limits of exclusion zones of Conductors of all voltage classes for the period was 1,744 hectares.
"Clearing the ROWs is a mandatory component of the repair program of Bryanskenergo. To optimize these activities contractors are annually attracted to perform work in a mechanized way, equipped with modern machinery. To perform clearing ROWs with own resources in the areas of power lines services and in Distribution Zones crews were formed and a tractor MTZ-82 with a mulcher was purchased," informed Deputy General Director of IDGC of Centre - Bryanskenergo division director Roman Stefanov.