10.02.2015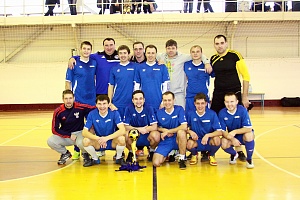 The team of IDGC of Centre - Kurskenergo division won the championship in mini-football of the Kursk Football League (KFL). In the final the power engineers in a bitter struggle defeated the team "New interior", which represented a certain repair and construction company, and became winners of the Kursk Champion Cup and gold medals.
The KFL championship was held for two and a half months, teams of 12 enterprises of Kursk were fighting for the championship. Games were held in two stages: first, the teams played with each other, after which the top four left in the playoffs, where they competed for prizes. The team "Kurskenergo" finished the first round at the head of the standings, having scored 28 points out of 33 possible, and in the semi-finals without any problems defeated players of "Prometheus" - 3:0.
But the final match was not easy for the power engineers. Their rivals from the very beginning seized the initiative, and had many attacks and first opened the scoring. However, such start did not discourage the players of "Kurskenergo". They skillfully defended and organized sharp counterattack, one of which eventually brought them success: an employee of the maintenance and supply department of the branch Alexander Chuikov nicely went through the right wing and just hit the top corner - 1:1.
After that the game got even. Scoring goals to each other was till the middle of the second half and with the score 4:4 the coach of Kurskenergo, a specialist of the logistics department Alexander Kotov, took a timeout, during which he made adjustments to the game of the his players. The pause helped: after a few minutes an engineer of the capital construction department Igor Drozdov led his team ahead. After this the power engineers fully took the initiative into their hands. The result of the match was 6:4 in favour of "Kurskenergo".
This victory is not the first success of players of the Kursk branch of IDGC of Centre. In recent years, the team of Kurskenergo repeatedly won the city championship in mini-football and three times in 2012, 2013 and 2014 became the Cup Kursk Region Winner.
"We pay great attention to promoting a healthy lifestyle, so it is logical that our employees consistently show good results in competitions at various levels," stresses Chairman of the trade union of Kurskenergo Nikolay Kalinin. "In the near future Kurskenergo's representatives will participate in the city chess tournament, and we hope that they will continue the winning relay, the start of which was kicked off by the football players."