05.02.2015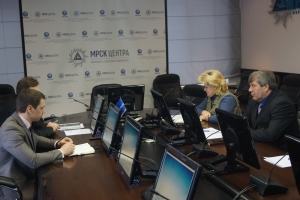 IDGC of Centre - Smolenskenergo division held a public meeting with existing and potential applicants - legal entities. Meeting on the topic "The current grid connection procedure" brought together representatives of small and medium-sized businesses, among which the most active participants were Ltd "Energostroy", LLC "Specialist", Smolensk Regional Branch of the All-Russian Public Organization of Small and Medium Enterprises "OPORA RUSSIA", LLC "Energotechnical company".
During the meeting the grid connection procedure for applicants of the category of small and medium-sized businesses and the formation of the cost of grid connection contracts were explained. Representatives of the power company told about the feasibility of "a grid connection turnkey project", which helps the client to avoid unpleasant consequences of work of untrusted organizations, saves time, allows to quickly and accurately perform all necessary arrangements to connect. A separate topic of the conversation was acquaintance with the activities implemented by IDGC of Centre in terms of creating favourable conditions for small and medium businesses.
Questions of those who came were answered by Deputy Director for Sale and Development of Services of the branch Andrey Zhydenko, Head of grid connections Sergey Lapin and Head of customer interactions Alexander Wojciechowski.
Most of the questions came from "OPORA RUSSIA". Representatives of the public organization were interested in options for grid connection of specific facilities, and solutions were suggested for each of them.
Following the meeting the power engineers and businesses agreed to hold regular meetings of such a type. Representatives of the business in the near future will make and send a list of questions which interest them, and those that will be discussed at future meetings.
We remind you that IDGC of Centre - Smolenskenergo division uses modern technologies and communication channels. On the site of IDGC of Centre at www.mrsk-1.ru there is a section "Internet reception" where consumers can get answers to questions concerning the activities of the branch. In the near future the Personal Account interface will be more comfortable.
Also to clarify issues related to the power supply, you can call the hotline at 8-800-50-50-115 (or short number 13-50), or visit Customer Service Centres and Distribution Zones.