04.02.2015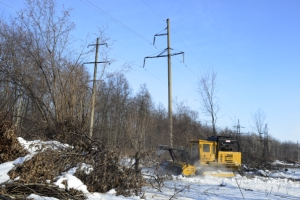 Tambovenergo summed up the implementation of activities in 2014 on clearing and expansion of ROWs of overhead lines.
During the mentioned period the specialists actually cleared 660.42 hectares of ROWs, which is 18% higher than the targets (557.36 ha).
The business plan for the ROW extension in the amount of 251.11 hectares was fully implemented. By the end of 2014 Tambov power engineers increased the width of exclusion zones of 74 power lines, having cleared it from trees and shrubs with complete disposal of forest residues.
All activities on clearing and expansion of the ROWs of power lines are done in strict accordance with the regulations and the requirements of the legislation.
"Clearing the exclusion zones of overhead power lines from trees and shrubs is done by power engineers annually, in preparation for the autumn-winter operation period, when due to adverse weather conditions the probability of interruptions of power facilities significantly increases due to branches touching wires and falling trees growing near electrical installations and power lines. This work is a mandatory direction of repair and maintenance activities, one of the most important conditions to ensure reliable power supply to consumers," stressed First Deputy Director - Chief Engineer of IDGC of Centre - Tambovenergo division Igor Polyakov.