16.01.2015
IDGC of Centre - Tverenergo division ended a children's drawing competition on the theme "I am from a family of power engineers". The event was held in order to create a corporate culture of employees of the branch, ensuring the continuity of generations and stirring children's interest and respecting the power engineering profession.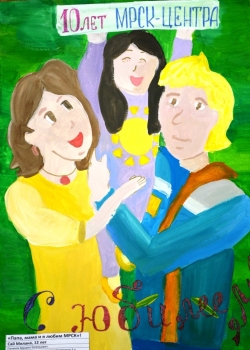 Children of Tverenergo's employees from 3 to 14 years of age presented their creativity to the jury. The competition received 46 works from 34 participants, performed in a free technique.
Results of the contest were announced by the competition commission of the branch. Winning prizes were distributed among three age groups. The winners were Dasha Khramtsova (6 years), Dasha Vrazova (10 years) and Anna Orlova (12 years).
Drawings on a free topic in the nomination "New Year's lights" were distinguished. The judges singled out the creativity of Sasha Morozov (4 years), Dasha Markova (9 years) and Milana Sai (12 years).
The competition commission noted diligence, brightness, personality and enthusiasm in each of the submitted works. Young artists were awarded mementos and certificates of merit.
Summing up, Head of Human Resources Olga Petrova stressed: "Tver power engineers traditionally hold events that give children the opportunity to display their artistic talent, creative thinking and to look at the familiar world with new eyes. Aesthetic education of the younger generation, as well as increasing corporate cohesion of employees of the branch is an important component in the HR work of Tverenergo."