24.12.2014
Tambovenergo held a solemn meeting, devoted to the 10th anniversary of IDGC of Centre and the professional holiday - the Power Engineers' Day. The event was attended by representatives of the regional authorities, IDGC of Centre and branches, as well as business and enterprise partners.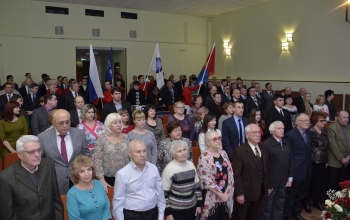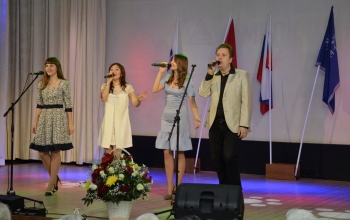 Deputy Governor of the Tambov region Nikolai Perepechin addressed to power engineers with congratulating words. He noted that due to constructive cooperation of IDGC of Centre through its Tambov branch and regional authorities the investment attractiveness of the region increased, joint projects are being successfully implemented aimed at the progressive development of the Tambov region.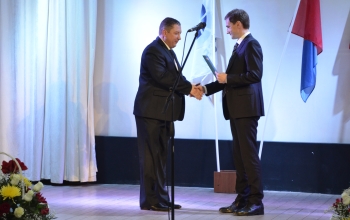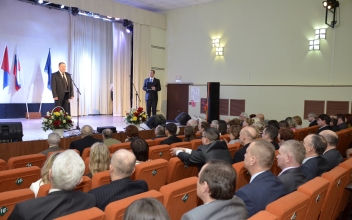 Deputy Director General for Investment of IDGC of Centre Dmitry Sklyarov formulated the main components of the company's success: professional staff, talented and proactive management, advanced technologies, modern methods of corporate governance, high production standards. "The distinctive features of the Tambov power engineers have always been reliability, high professionalism, willingness to work selflessly for the future of our country," he stressed.
Deputy General Director of IDGC of Centre - Tambovenergo division director Vladimir Syschikov reminded that the professional holiday of the power industry is celebrated in the coldest time of the year when their work is especially needed by the people. "And skilled workers that are the foundation of the team, and the youth promote and propagate the wonderful traditions established by their predecessors, showing professionalism and stamina even in the most extreme weather conditions. After all, for most of them it is not just a job, but the fate, calling for life," Head of Tambovenergo is sure about.
Particularly warm words were addressed to veterans of the enterprise. After all, it is thanks to their dedication and high professionalism a solid foundation of the Tambov power system was established and Tambovenergo has today a good potential for further development.
The celebration continued with an awarding ceremony of employees of the executive office of the branch, at which awards of the Russian Ministry of Energy, JSC "Russian Grids", IDGC of Centre, Tambovenergo, the Tambov region administration and the city of Tambov were presented. Earlier, similar solemn assemblies were held in all 17 Distribution Zones of Tambovenergo. In total 78 employees of the branch were distinguished with departmental, corporate, regional awards on results of this year for work achievements.