27.11.2014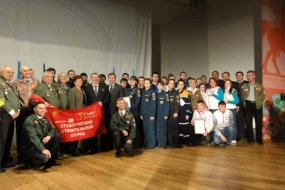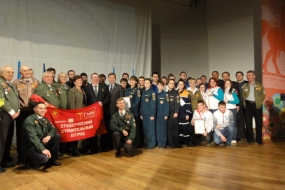 Students of the first season of construction crews of the Tver branch of IDGC of Centre were enrolled in the youth Russian public organization "Russian student's construction crews". At the solemn event dedicated to the 55th anniversary of the student's crews of the Russian Federation, the young people were handed the symbol of a member of a students' construction crew - a windbreaker.
The rally was attended by Governor of the Tver region Andrey Shevelev, Chairperson of the Youth Committee Natalia Moiseeva, veterans of the Komsomol, commissioners and leaders of student's construction crews of past years, members of student's crews of Upper Volga, recruits of the Regional Headquarters of student's construction crews.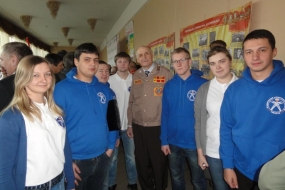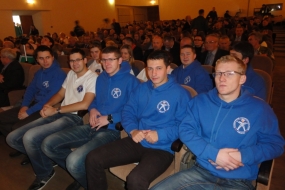 Today the regional movement brings together over 800 young people who carry out work on the improvement, repair of roads, help people, participate in the harvest, ensuring the safety of the population and territories, work as instructors in children's camps and conductors on trains. Last year, students of the Tver State Technical University took part in the construction of Olympic facilities in Sochi. During the summer labour season in 2014, students of TSTU worked in different units of Kalininsky and Konakovsky Distribution Zones of IDGC of Centre - Tverenergo division, performed work on clearing ROWs from forest residues, took meter readings of natural and legal persons, did rounds of power lines, checked electricity metering circuits, travelled with operational staff of Tverenergo to repair overhead lines (Conductors).
According to Andrey Shevelev, today the Government of the Tver region is taking a number of steps to support the movement of student's construction crews: regional headquarters were established, mechanisms are provided to assist in the development of student's construction crews, this year a regional office of the public organization "Russian student's crews" was opened.
"The task of government is to make every effort to ensure that every year the construction crews movement involves as many young people as possible, expanding opportunities for employment," stressed Governor.