24.11.2014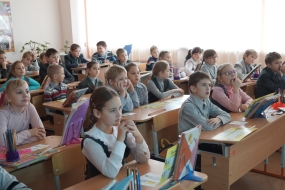 Until the end of 2014 specialists of IDGC of Centre - Smolenskenergo division are planning to hold not fewer than one hundred lessons in schools of Smolensk and the Smolensk region. The power engineers conduct classes using presentations of winners of the contest "Energy conservation: about the complex in a simple way" held earlier among the company's employees, within the Year of Energy Efficiency in IDGC of Centre. For three schoolchildren age groups works were chosen that formed the basis for the lessons guide.
Three unusual master "Classes on energy saving" took place on November 18 at gymnasium №4 in the city of Smolensk for 55 primary school schoolchildren and their teachers. They were held by 2nd category engineer of energy conservation and energy efficiency Office Anastasia Kulachenkova with the presentation of her colleague from the Yaroslavl branch. Anastasia told the disciples of the third and fourth grades how to implement energy efficiency in the living environment.
To make their lessons informative and exciting, the power engineers used different methods and techniques. For example, the lesson on "Energy saving in our life" took place in the form of a team game in which the children got energy rubles for each correct answer. For the won finances at the end of the class the children got souvenirs and prizes.
When conducting lessons for lower grades Smolenskenergo's specialists paid special attention to how children adjust emotionally to the perception of the theme on energy conservation. A funny character - electric vehicle Elektrosha helped the youngest schoolchildren remember the advice on energy saving, and the lesson was held in the form of a fascinating journey through the magical land of PowerSaver.
Thus, with simple examples the schoolchildren saw how easy it is to save energy at home and, more importantly, from the explanations of the power engineers they understand how important it is today to be engaged in energy saving, to conserve natural resources. During the lesson each pupil felt a little as a power engineer and boldly talked on the topic of energy efficiency measures. The children's ideas were interesting and original.
The schoolchildren were demonstrated energy saving light bulbs, explaining their advantages over conventional incandescent lamps, told about the energy auditor profession, while everyone could look for possible heat leak in the classroom using a thermal imager, showed a compact solar cell that can be used to charge mobile phones.
The conducted lesson showed keen interest and willingness of the education system to the implementation of training programs on energy conservation and efficiency for schoolchildren.