11.11.2014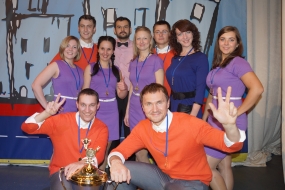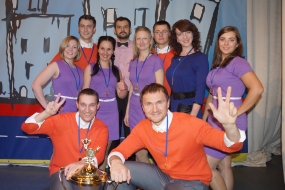 The team of "Yarenergo" became the winner of the Club of the Funny and Inventive Festival among branches of IDGC of Centre. The festival was held in Smolensk, and was timed to coincide with the tenth anniversary of the Company.
The team includes the most active employees of the Youth Council and the trade union of the company. They had jokes on the stage not the first time - with a little different composition they performed at past corporate games and showed their performances in urban contests.
All reprises, which conquered Smolensk spectators, were prepared especially for this show. It was decided to put emphasis on plain humour, though there were jokes about the profession too. For example, the scene of an unlucky hunter for conductors that de-energized a native receiving point of the metal. Or weekdays of electricians who write the workflow in video and forced to show the wonders of eloquence to avoid all known expressions. The highlight of the program was a parody of corporate parties where all features of the office fun were presented in a language of exquisite poetry, and the resting people were dressed as in the Petrine era.
The jury included journalists and prominent representatives of the Smolensk Club of the Funny and Inventive, including champions of Major League from the team "Triode and diode". According to the results of all the contests the Yaroslavl power engineers were recognized the most cheerful and inventive. But the main reward, of course, was sincere laughter of the audience and positive emotions received from the performance.
"The audience responded to all our jokes. This is twice as nice as most of the audience was not related to the power industry. Thanks to the organizers and all participants - together, we made a great show, a real feast of humour. If there is such a possibility, we will gladly perform at other events dedicated to the Club of the Funny and Inventive," says the team's captain, Chairman of the trade union organization of Yarenergo Anton Sukharev.