30.10.2014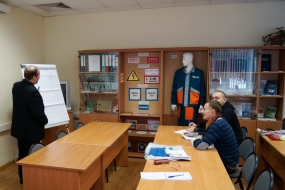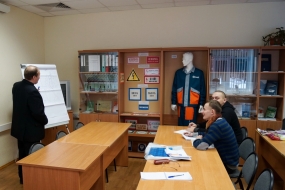 IDGC of Centre - Kurskenergo division held another day of safety. As part of this event special commissions, composed of technical managers and specialists of the branch, checked the level of training in all structural units of the company. At training centres of Distribution Zones workshops on safe work performance were conducted, involving the connection of electricity consumers to temporary power sources, understanding causes and circumstances of accidents that occurred during 2014 in electrical installations of the company.
The commissions also checked the performance by the branch offices of activities and regulations as provided by the Program to reduce the risk of injury to third parties. In particular - the availability and condition of fences and warning signs on power equipment of the branch of "Kurskenergo". According to the results of random checks measures were identified to eliminate detected violations in the shortest time.
Safety days are held monthly and part of the ongoing system work in Kurskenergo, which aims to preserve the life and health of employees in the workplace. The Office of Occupational Safety and Production Control of the branch constantly monitors the state of workplaces of personnel, availability and quality of the technical documentation, the sanitary condition of the premises and areas, crews provision with means of protection, as well as staff having protective uniform.
"Practice shows that the activities carried out within the framework of the Safety Day have a positive effect on production discipline, promote injury prevention of staff in the production process, and third parties at facilities of IDGC of Centre - Kurskenergo division," stressed Head of the department of occupational safety and environmental health of IDGC of Centre - Kurskenergo division Dmitry Gorbachev.