30.10.2014
Specialists of Kurskenergo summarized preliminary results of the implementation of the repair program in 2014. Today it has been made at 99.4%. As part of the measures envisaged by the document the power engineers have repaired overhead power lines (Conductors), substations (SS), cleared and expanded ROWs, replenished emergency supply of fuel, equipment, and spare parts. Funding for the program was more than 211 million rubles.
Considerable amount of work at 35-110 kV Conductors were performed in 24 districts of the Kursk region. Indicators of the annual plan for repair of 10 kV Conductors were exceeded in Soldatsky, Glushkovsky and Dmitrievsky districts, for 0.4 kV Conductors - in Zheleznogorsky, Pristensky and Rylsky Distribution Zones.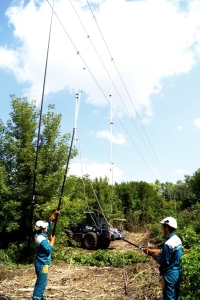 In addition, experts of Kurskenergo completed comprehensive overhaul at 25 substations of 35-110 kV, such as "Murynovka", "Treeless", "Agronomist", "Chermoshnoye, "Okhochevka", "Kastornoye", at 409 transformer substations (TS) and distribution points.
Planned norms were exceeded with a number of indicators. At 35-110 kV Conductors 753.7 kilometres repaired (736.5 km on the plan), and at 0.4-10 kV Conductors - 2,131.8 kilometres (2,048.2 km on the plan).
Along with the overhaul of the elements of circuits specialists of Voronezhenergo painted and drew operator's names on equipment, restored bearing concrete structures and flanging of oil receivers of power transformers. In addition, the power engineers tested relay protection and automation systems, significantly affecting the reliability of the equipment during the autumn-winter operation period.
To avoid disturbances caused by falling trees and branches on wires of overhead lines passing through woodland, during the repair program Kurskenergo cleared 944.5 hectares of ROWs along power lines of tree and shrub vegetation. The clearing finished with 926.1 hectares of planned targets. 408.4 ha of ROWs along power lines were expanded to the regulatory status, which corresponds to the plan.
"The received by the branch "Certificate of readiness" for the autumn-winter operation 2014-2015 period is proof of the successful repair campaign implementation, availability of personnel and electrical equipment for use at low temperatures," stressed First Deputy Director - Chief Engineer of IDGC of Centre - Kurskenergo division Vyacheslav Istomin.