24.10.2014
IDGC of Centre - Tambovenergo division does active work in teaching the basic rules of energy conservation for pupils of schools in the Tambov region. Since the beginning of the new academic year the power engineers have conducted these classes almost every week, telling schoolchildren about how to make rational use of electric energy, acquainting them with modern energy efficient technologies that can be used in everyday life.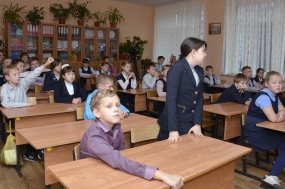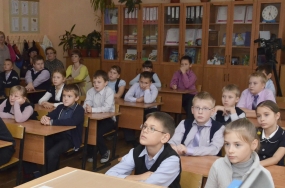 Another specialized lesson for younger pupils was in secondary school #36 of Tambov. Head of energy conservation and efficiency of Tambovenergo Sergey Pervushin told the children about the importance of the rational use of energy, gave them practical advice on saving energy in the home. The lesson was accompanied by demonstrating a presentation on energy saving written in a verse form, specially adapted for the juniors. The children learned from it that such simple things as the use of energy saving lamps instead of incandescent lamps, sealing windows or descaling the kettle help save on the consumption of electric and heat energy in the home.
The participants of the lesson listened to information with interest. On completion of the lesson they promised to share tips on energy saving with relatives and friends.
Pedagogical school staff noted the usefulness of such events. "As the lesson showed, energy saving is a very hot topic," considers a primary school #36 teacher Lyudmila Novokreschenova. "The boys and girls listened with great attention to the information on alternative forms of energy, as well as tips on energy saving. After the lesson they will tell about it to their parents, and then, perhaps, the solution to the problem of energy conservation will be much simpler for all. Children need to know the principles and methods of saving energy and put them into practice. And one should develop the knowledge necessary from the very young age. Many thanks to the specialists of Tambovenergo for the initiative."
"Lessons on energy saving will be systematically carried out in the Tambov region during the school year," says Sergey Pervushin. "Every child should remember that the natural resources are not limitless, and their rational use is a concern for the future of new generations."