13.10.2014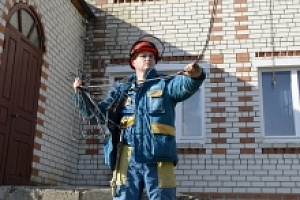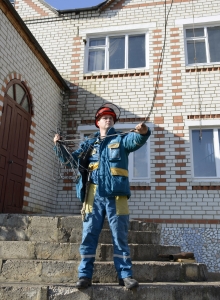 Staff of IDGC of Centre - Tambovenergo division together with representatives of law enforcement agencies and the media organized another raid on fact-finding of non-contractual and non-metered electricity consumption. The event was part of a program to reduce commercial losses of electricity in the branch networks. The venue of the raid was the settlement of Kalinichi in the Tambov region, the majority of residents of which do not pay for electricity, preferring to receive it by theft.
The inspection confirmed the regularity of this trend. According to Head of Department for electricity transmission services of IDGC of Centre - Tambovenergo division Andrey Bogdanov, the situation with payments in Kalinichi rose, without exaggeration, to a catastrophe. Of more than 200 settlement households there are a total of 72 personal accounts in the energy supply company - others use this service "free" illegally connecting to networks. They use a variety of ways, from simple throwing connection to the wire to tampering metering devices. At the same time, all violators ignore the rules and regulations of electrical networks operation, which can lead to a fire situation, deterioration in the quality of electricity delivered and the reliability of electricity supply.
"Under the current legislation our experts do a great deal of work on the prevention of facts of non-contractual and non-metered consumption: they draw up relevant acts, issue warnings and instructions, send claims to courts," says Andrey Bogdanov. "Nevertheless, the situation has not significantly changed yet: often the perpetrators do not want to pay the bills. In such cases, we have to go to extremes and to stop the illegal supply of electricity."
According to the Office of services rendered of Tambovenergo, since the beginning of the year 612 raids were carried out in the Tambov region to detect cases of non-contractual and non-metered electricity consumption. It should be noted that the situation in Kalinichi is not typical for other small towns: most people regularly pay for electricity services, but every settlement has always offenders who steal, illegally connecting to the networks of the branch. The power grid company incurs substantial losses, and the people themselves put their lives and property to risk. Tambovenergo warns: each such case, regardless of the reasons and circumstances is an offense, and therefore is persecuted and suppressed by law enforcement agencies in accordance with the law of procedure.
The power engineers intend to continue the fight against violators, so similar raids will be systematically carried out in all regions of the service area of IDGC of Centre.