13.10.2014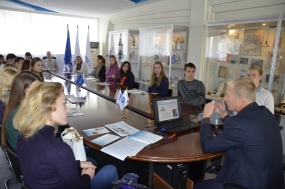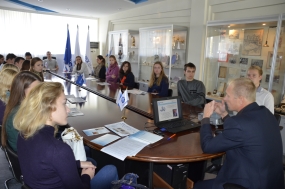 Specialists of IDGC of Centre - Tambovenergo division held a seminar on energy conservation for law students of the Tambov State Technical University (TSTU). Its topic was energy savings in everyday life.
The event started with a tour of the museum of the history of the Tambov power grid. Future lawyers met with the main stages of formation of the company, the prospects of its development. They were told about the Russian inventor of the incandescent lamp, a native of the Tambov province Alexander N. Lodygin, who glorified his native village in the whole world. The 140th anniversary of the receipt of the patent for the incandescent bulb invention by the scientist is celebrated in 2014. The genius inventor was largely ahead of his time, some of his inventions in his lifetime were not claimed.
After a historical overview the workshop participants returned to modern realities. Head of energy conservation and efficiency of a branch of IDGC of Centre Sergey Pervushin spoke to them. His speech was about energy-saving devices and technologies, as well as how one can save energy for the benefit of the family budget.
Today there is a whole energy-saving industry: from modern technologies in construction of houses - to devices such as thermostats, modern radiators, plastic windows and energy-saving light bulbs that reduce energy costs. Even domestic appliances are classified by the degree of energy efficiency today: its highest level is designated by the letter "A".
Energy conservation implies some reasonable, rational use of energy, so it is important today to build a culture of consumption of resource for each person, stressed Sergey Pervushin.
Information about the legislation and regulations in the field of energy conservation aroused increased interest of the audience. Representatives of Tambovenergo provided the most detailed information on them and gave complete answers to the students' questions.
As the participants unanimously noted at the end of the meeting, the information received was extremely useful for them. The general opinion was expressed by Doctor of Law, Professor of TSTU Valery Baev, who led the university group. He thanked the organizers of the event and emphasized the importance of such meetings.
"A modern specialist should be broad-minded and well oriented in the existing legal framework," stressed Valery Baev. "It would be interesting for future lawyers to discuss topical issues in the energy infrastructure, energy efficiency and implementation of energy conservation measures."
Workshops on energy efficiency are part of a system of work that Tambovenergo leads in this direction. Until the end of the year experts of the branch will conduct about ten events with the participation of pupils and students to foster a culture of rational use of energy in the home.