10.10.2014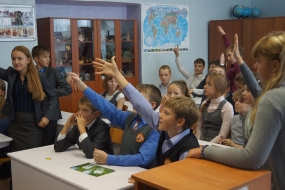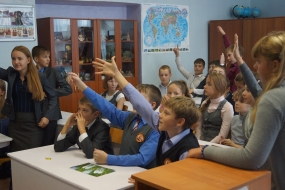 In 2014 IDGC of Centre launched a project "Lessons on energy saving" in schools located in the service area of the company. A pilot area for events was Smolensk schools, where experts of IDGC of Centre - Smolenskenergo division held already six sessions during the first weeks of September.
According to the results of training seminars in school number 32 of the city of Smolensk teachers expressed their deep appreciation and sincere gratitude to the power engineers for holding the energy saving lessons "About complicated in simple words" with pupils in primary schools. Principal Elena Barilova sent a letter of thanks with warm regards to the power engineers addressing the leadership of Smolenskenergo.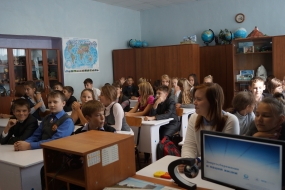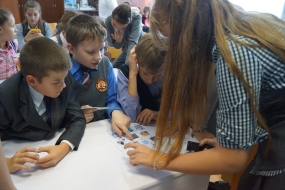 According to the school teachers the main result of studies on energy saving was to attract the attention of schoolchildren to the issues of rational use and saving of energy and energy resources. Conducting lessons in the form of games allowed the children to show their active participation, ask the experts of Smolenskenergo questions and learn effective ways to save energy.
The teachers expressed confidence in keeping the existing friendly relations with the team of the branch and hope to further fruitful cooperation.
"Smolenskenergo has been placing considerable emphasis on energy conservation and efficiency for a long time, but it started teaching non-specialists, in particular children, in September of this year," said Head of energy conservation and efficiency Dmitry Serenkov. "It's nice that our efforts and initiatives have been also highly appreciated by the teachers."
The lessons of energy saving are thematic lectures aimed at popularization of energy-efficient lifestyles among school-age children, held with the company's developed materials.
Young employees of IDGC of Centre were attracted for the development of lectures on "Lessons of energy saving". For the company it provided an opportunity to engage young workers as much as possible to promote the idea of energy conservation and energy efficiency and make it popular among children, and it also allowed to stimulate the association of the youth of IDGC of Centre around the sectoral priority within the set by the Russian Government target of reducing energy intensity of the economy.
From September 1 the first few sessions with the help of the works of the contest winners were successful for schoolchildren of three schools in the city of Smolensk.
Conducting of "Lessons on energy saving" is planned till the end of 2014. In the future, it is supposed to involve teachers to hold classes, who are interested in the promotion of energy-saving lifestyle among children.