25.08.2014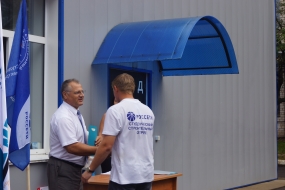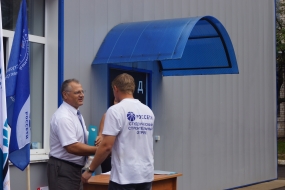 August 15, 2014 on the site of Smolensk District Distribution Zone a solemn closing ceremony of the season of students' construction crews of IDGC of Centre - Smolenskenergo division. Over one and a half month about 40 young people, consisting of two groups, from the Smolensk branch "MPEI" and the Smolensk Polytechnic College worked at power facilities of the branch. It should be noted that the students were working directly for the first time in the energy sector of the Smolensk region and in practices were mastering the knowledge obtained in the course of studies.
Representatives of educational institutions and teachers, who during the labour semester were involving them in their future profession, addressed to the construction crews' members. They noted the importance of the work done by the students and their high level of training, and expressed the hope that in the future promising young people would join the ranks of power engineers. "IDGC of Centre is a close-knit team, good working conditions, and decent wages. Here we wait for young highly qualified specialists," said, in particular, Deputy Director for Technical Issues - Chief Engineer of Smolenskenergo Nikolay Kireenko.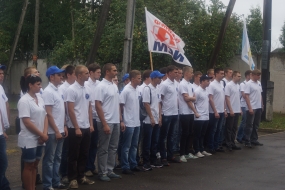 On behalf of members of the students' construction crew "Energet" their leader Artyom Parshukov thanked Smolenskenergo's leadership for the opportunity to spend time with use, to gain work experience in the profession, which the students' construction crew members are more likely to bind their life with. "I hope that the young people, for who this season was the first, are satisfied and learned a lot of positive experience this summer, and again in the future they will want to work in the construction crew," he stressed.
Special thanks were addressed to the Department of Human Resources of the branch, which organized and supervised the work of the young people throughout their term of employment, and the Office of production control and safety, whose experts provided assistance to the members of the construction crews and shared their knowledge with them. The students' construction crews' members also appreciated the work of employees of the Department of Public Relations and representatives of the trade union committee of Smolenskenergo for leisure of the members and coverage of their activities in the media of the Smolensk land. And heads of educational institutions were not forgotten either. The young people thanked them for their support of the students' construction crew movement and offering the chance to spend their summer with benefit.
At the end of the event all the members of the construction crews were awarded certificates and letters of gratitude for their active and fruitful work.
Participation of students' construction crews in the production process in the electricity sector in recent years is growing. More and more young people are willing to get work experience at power facilities across the country. This helps utilities to establish mutually beneficial cooperation with universities of energy, improve students' practical training in relevant specialties and provide inflow of young professionals to the sector.