21.08.2014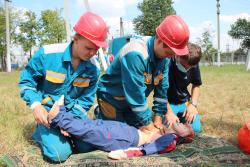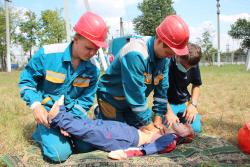 IDGC of Centre - Orelenergo division for the first time held competitions of professional skills of members of the students' construction crew "Grid Operator". Students of specialized electricity specialties of Orel State Agrarian University fought for the title of the best.
At the beginning of this summer the construction crew "Grid Operator" started to work at facilities of IDGC of Centre - Orelenergo division. The duties of the young people included: scheduled inspections of transformer substations, rounds of power lines, taking electricity meter readings, paint work, participation in the repair of power facilities on sites of Distribution Zones and many others. Since the beginning of the academic year the work of the construction crew ended with such a difficult challenge, as the competition of professional skills. In Orel such competitions were held for the first time.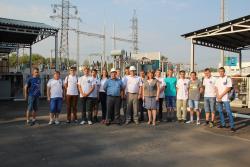 The competitions were held at the training centre of Orel District Distribution Zone of the branch, three students' teams - "110 kV", "Dielectric" and "Heroes" took part in them. The program of the competitions consisted of six stages with theoretical and practical tasks. Among them was the first aid provision to an injured using a dummy simulator, fire fighting at a power facility with the use of carbon dioxide fire extinguishers, reading one-line diagrams of substations, overhead lines inspection, as well as verification of theoretical knowledge and use of protective equipment. The team "110 kV" won and the teams "Heroes" and "Dielectric" took second and third places respectively.
The competitions of professional skills for the members of the construction crew is not only the most important stage of their qualification training, but also the opportunity to gain practical experience, work skills for safe operation and to prove themselves as a professional, reliable friend and a member of the team. The young people showed good theoretical and practical training, their ability to act