15.08.2014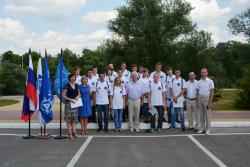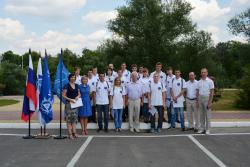 The official closing ceremony of the first season of students' construction crews of Tver State Technical University and Konakovsky Energy College took place at the Tver branch of IDGC of Centre. At the solemn line-up leaders and participants of the students' construction crews were presented with gratitude for the responsible performance of their duties and the enthusiasm shown by the youth.
Head of Human Resources of Tverenergo Sergey Zhirkov thanked all those who took part in the movement of students' construction crews and expressed hope in the future to see the young people in the ranks of the company's employees: "This experience for you is a great opportunity to acquire skills and secure your future profession in practice, test and implement your knowledge. The power industry today is a solid foundation of industrial and social growth of the region. Therefore, the company is particularly interested in the young and promising personnel."
Deputy Chief Engineer for operational and technological management - Head of the Grid Control Centre Vladislav Ostryk also stressed that at the moment Tverenergo cooperates with various specialized universities, thereby making the long-term personnel reserve of the enterprise: "We positively appreciate your input into the electric grid development. Being a power engineer is a difficult but interesting profession. And we will be glad to see you in the future working in the energy industry."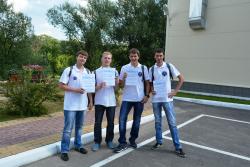 Chief of Konakovsky Distribution Zone Sergey Demyanov took the floor with words of gratitude for the good work made: "I note your hard work and diligence. I hope that having acquainted with the specifics of the profession from the inside, you will be faithful to the chosen path and want to make the power industry your life's business."
In the course of the employment season 20 students of the students' construction crews worked at various departments of Kalininsky and Konakovsky Distribution Zones of the branch, cleared ROWs from logging residues, took meter readings of residential customers and legal entities, made rounds of power lines, checked electricity metering circuits, travelled with operational staff of Tverenergo for repairs of overhead power lines.
The young people had vivid impressions of the past employment season. "This experience has become an important part of our educational program. We are grateful to Tverenergo's staff for their help and support in the course of the work performance, the transmitted knowledge and skills. According to the results of the labour season there was a desire to pass externship at Tverenergo and more purposefully to move to the beginning of work in our chosen profession," concluded the leader of the students' construction crew "Flame" Ilya Perevozov.