08.08.2014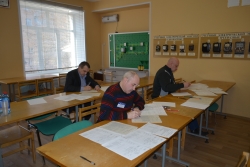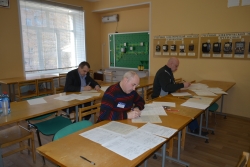 Tver branch of IDGC of Centre for the first half of this year spent about 5.3 million rubles on training, retraining and advanced training. Of 870 employees 345 people had their retraining courses, 25 workers were retrained on safety, 13 executives, professionals and employees of the branch were trained in various areas in the field of industrial safety.
Further training was conducted in various workers' specialties: "Electrician of a first responding mobile crew", "Electrician for a substation maintenance", "Electrician for repair and installation of cable lines", "Electrician for operation of distribution grids", "Electrician for operation of electricity metering devices", "Electrical fitter for repair of switchgear equipment, they were trained in "Slinger", "Machinist of diggers", "Machinist of aerials and truck mounted hydraulic cranes", "Welder", and "Feller".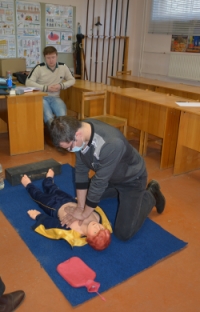 Until the end of the year more than 190 power engineers will be trained in the branch.
Tver branch IDGC of Centre continuously improves professional knowledge and skills of its employees, focusing on the comprehensive development of human resources. IDGC of Centre for many years successfully cooperates with the leading metropolitan and regional universities in the country, teaching and educational institutions, and training centres, provides training on the job in its subdivisions, as well as conducts training and retraining on the site of educational classes.
The main partners of Tverenergo in training and retraining are the Tver training centre, ANO NDPO "Training and Consulting Centre "Lyceum", FGBOU DPO "Petersburg Power Engineering Institute of Professional Development", Non-state educational establishment "Tver training centre of higher driving skills", "National Research University "MPEI" a branch in the city of Smolensk", Driving school "Training centre", SEI SPO "Tver College named after A.N. Konyaev".
In cooperation with academic institutions for 6 months in 2014 the branch employed 4 young professionals — graduates of Tver State University (TSU), Tver State Technical University (TSTU) and Ivanovo State Power University (ISPU). 3 students of Tver State Technical University, 11 students of Ivanovo State Power University had their practice in industrial subdivisions of Tverenergo.
In June and July of this year 6 students of Ivanovo State Power University had their production practice.
In 2014 Tverenergo supported the movement of students' crews of electric grid facilities in the Russian Federation. 20 students from Tver State Technical University (TSTU) and Konakovo Power College at this time are receiving invaluable practical experience working at power facilities of the branch.
Before it all members of the crew were trained and received the second level of electrical safety. This allows the students to perform a certain amount of work, beginning with reading of meters and ending with routine inspections of facilities and work at ROWs.
Revival of the activity of students' crews promotes labour education of the youth, training orientation of power engineering students specifically for the company. And for Tverenergo it is incoming modern knowledge, new ideas and additional possibility of the formation of personnel reserve of power engineers for the enterprise, who in the future will be high-level professionals.