18.07.2014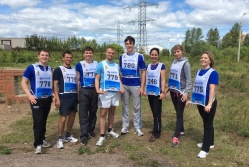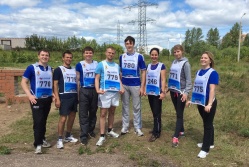 IDGC of Centre - Yarenergo division took part in the Sports Festival of the working youth "I choose the Ready to Work and Defense". A power engineering team was formed of the most active members of the Youth Council of the Company.
The event was held in preparation for the passing of the test "Ready for Labour and Defense", which will be introduced everywhere in our country since September 1 this year. It was organized by NP "SC "Petrel-BB"", Agency for Physical Culture and Sports and Youth Agency of the Yaroslavl region.
The festival was attended by 9 teams of enterprises and organizations of the Yaroslavl region. The competition program included three parts - exercise of the sports test "Ready for Labour and Defense" (running 100 metres, chin-ups, press-ups, standing long-jump, bending body with palms touching the ground, air rifle shooting), as well as an obstacle course and tug of war.
According to the results the power engineers excelled and were among prize-winners in a number of events. Alexey Pokrovsky won the long jump. Alexey Dmitriev was the second in the obstacle course. And the whole team took the third place in the tug of war.
"Very active and athletic young people work at Yarenergo. We regularly attend Sport Games and tourist gatherings in which employees can develop their physical abilities. Corporate tournaments are hosted in individual sports. Many of our young people attend sections and have a sports category. We pass the autumn standards easily," Chairman of the Youth Council of the branch Ilya Skaldutsky is sure.