16.07.2014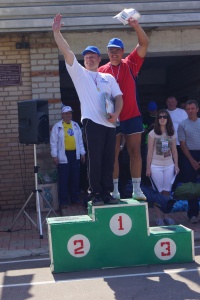 Athletics, weight lifting and swimming competitions among power companies of the region finished in the Smolensk region. Representatives of IDGC of Centre - Smolenskenergo division unconditionally won in these disciplines. The competitions were held within the first phase of the XXIV Sports Games of power companies and at once 10 teams of regional companies fought for medals.
In swimming the representatives of the executive office of Smolenskenergo won all three gold - men, women and the team. A representative of the central service area received a bronze and thereby helped her team get a silver medal in the team event.
The athletics competitions were held in several racing disciplines. Gold medals in the women's relay were taken by women from the executive office of the Smolensk branch of IDGC of Centre, their male counterparts got silver in the discipline, and athletes of the southern zone of Smolenskenergo – gold.
In a 1,000 m cross-country race for women and 3,000 m for men Smolenskenergo also got medals. Gold in both categories went to power engineers of the executive office of the branch. Bronze in the men's cross-country went to the western zone.
In the team athletics competition, which included the best runs of 100 m for women and men, gold went to the executive staff, and bronze to the western zone of the branch.
Representatives of the executive office were also distinguished in weightlifting - gold of the individual championship was won by the head of execution and control of grid connections Kirill Lobanov. The head of the analysis and production management Vitaly Golubkov only gave him a little. They brought the branch confident and stunning victory in the team competition of weight-lifters, proving that the most powerful men work in the executive office.
"Sporting achievements of Smolenskenergo employees are a point of pride. Sports and athletics provide an opportunity not only to express themselves in different kinds of sports and prove their leadership, but also to feel part of the team, to experience that the skill and athletic training of each led to a long-awaited victory," stressed the organizer of the Sports Games, Chairperson of the trade union of the branch Galina Ryabtseva.