19.06.2014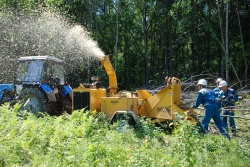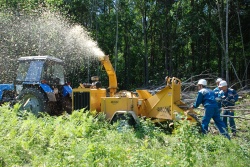 IDGC of Centre - Tambovenergo division has started implementing the main stage of the program of clearing and widening ROWs of overhead power lines, scheduled for 2014.
The annual plan for clearing the ROWs is 557.36 hectares, for widening – 251.11 hectares. For five months in 2014 its actual implementation in terms of the clearing was 232.43 ha, which corresponds to the planned indicators.
A significant amount of clearing activities for 2014 will be made on the territory of Morshansky, Pichaevsky, Kirsanovsky, Rasskazovsky Distribution Zones where forests cover large areas. Total share of forest plantations of the Tambov region is more than 10% of the territory of the region.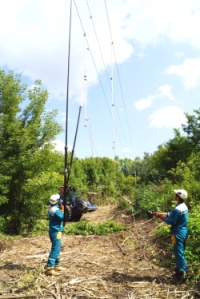 Staff of Distribution Zones of the branch, dealing with the clearing, is provided with all necessary equipment. The work also involved special vehicles – a Terrion tractor equipped with a timber cutter, as well as a mobile crusher (mulcher) Rayco C 185 with automation components and a hydraulic system. Its use improves the performance of work and allows to completely dispose of residue.
"Trees and shrubs growing in the vicinity of power lines can cause short circuits and power system disturbances. Therefore, timely and high-quality clearing of ROWs along overhead lines is one of the main measures to improve the reliability of electricity supply," underlines Deputy Director for Technical Issues – Chief Engineer of IDGC of Centre - Tambovenergo division Igor Polyakov.