11.06.2014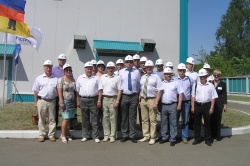 IDGC of Centre - Yarenergo division hosted a meeting of Acting Director of the branch Konstantin Kotikov, his deputies and heads of departments with participants of major enterprises of Leninsky district of Yaroslavl. The event was also attended by Advisor to Governor of the Yaroslavl region Alexander Sizov and Head of Leninsky district of Yaroslavl Andrey Zotov.
The main purpose of the meeting was the presentation of the company: to demonstrate the latest achievements of the regional power system, performance results of the implementation of new technologies of efficiency, and disclosure of the company's strategy for the future.
The acquaintance was started with a tour of the 110 kV substation "Kotorosl". This is the most high-tech grid facility of the power system, commissioned in 2010 as a gift to the millennium anniversary of the city. The main commemorative facilities were energized from it too: the Concert and Entertainment Centre, a park and a new planetarium. The guests were shown the substation power equipment, protection and control system devices, through which the facility is fully remotely operated.
The meeting was continued in the administrative building of Yarenergo where the participants talked about the main work directions of the branch: power transmission and distribution, grid connection, conclusion of direct contracts, providing additional services, development of customer centric approach. A separate part of the presentation dealt with long-term plans of the grid organization, namely the fundamental acceleration of grid connection in municipal districts of the region through the implementation of initiatives to clarify the regional legislation concerning partial cancellation of building permits, implementation of infrastructure for electric vehicles and energy conservation and energy efficiency. The participants asked questions, shared experiences, discussed the possibility of joint plans for the future. All of them marked the information openness of the company and importance of such events.
"Development of the regional economy, the operation of businesses, citizens' comfort depends on power engineers. When dealing with major production problems the company is open to dialogue with partners and consumers of our services. It was important for us to create a new form of communication, setting the feedback to understand whether we were moving in the right direction," stressed the value of the business meeting Acting Director of the Yaroslavl branch of IDGC of Centre Konstantin Kotikov.