07.05.2014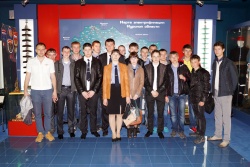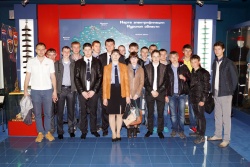 First-year students of a branch of the Moscow State University of Railway Transport - Kursk Railway College visited the Museum of the History of Energy of the Kursk region. The excursion was organized as part of the career-oriented activities that are actively implemented by Kursk branch IDGC of Centre.
Every year several hundred students of higher and secondary specialized educational institutions come to Kurskenergo to get acquainted with the backbone grid company in the Kursk region, and some - with a potential place of work.
"These meetings with the youth are designed to increase prestige of the power engineering trade, as the most important conditions for the inflow of qualified personnel in the distribution grid complex," stressed Head of Human Resources of IDGC of Centre - Kurskenergo division Gennady Demekhin. "Here we can show them who created one of the oldest companies in the region, talk about traditions and the invaluable experience of predecessors, about the young, talented professionals, who the branch management places their stake on today."
The students learned in the Museum with an electrification map of the Kursk region when the first lines, substations were constructed, what measures are taken by modern power engineers in order to modernize the electric grid complex of the region, to make it more powerful, reliable and, most importantly, safe.
Speaking of safety, in order to prevent injuries to third-parties the young visitors were showed videos of IDGC of Centre about behaviour near power facilities, told about the rules that must be followed when using electrical appliances at home.