06.05.2014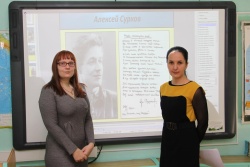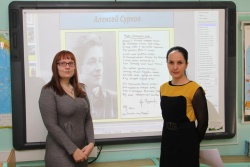 On the eve of the 69th anniversary of the Victory the Youth Council of IDGC of Centre - Yarenergo division held a patriotic lesson for 8th grade pupils of school 47 of the city of Yaroslavl. The power engineers prepared for kids photos and historical materials on the Yaroslavl region in the Great Patriotic War, as well as talked about our famous countrymen – participants of those tragic events.
The main purpose of the lesson was to show the war is not just a historical event, but as something that really happened to people who lived in the same city and in the same streets that these boys and girls.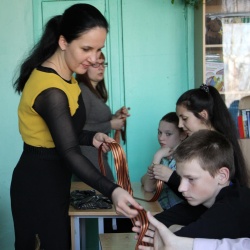 Employees of Yarenergo told about the exploits of their colleagues – an employee of CHP-1 Alexander Kudryavtsev. In the battle for Vienna he gave his life to destroy the plans of the Nazis to undermine the bridge and provided a successful attack of Soviet troops. For courage, he was awarded the title of Hero of the Soviet Union. Also, the pupils learned about the brave pilots Gennady Troitsky and Ahmet-Khan Sultan, who defended Yaroslavl against attacks by enemy aircraft. Not so long ago the young people were practicing the famous war song "Dugout", and for many an interesting discovery was that its author was Alexey Surkov, a native of the province of Rybinsk.
Part of the lesson was devoted to the life of Yaroslavl inhabitants during the war: hard working days, the supply to the front, the constant bombing. The children learned that the trans-Volga "Carpathians" are the remnants of a major line of defense, that during the war the Yaroslavl companies produced armoured trains, submarines, and backpack flamethrowers, and the first batch of shells for the famous "Katyusha" was made at the factory in the village of Burmakino.
"The young people listened with great interest to us: they asked questions, shared experiences and stories of relatives. It was obvious that the children wanted to know more about the war and the country's past. This means that these lessons are in demand, and we intend to conduct them further – in other schools," stressed the initiator of the lesson, a member of the Youth Council of Yarenergo Elena Akasheva.