17.04.2014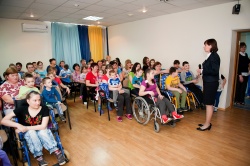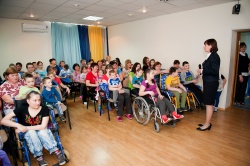 April 16 staff of IDGC of Centre - Belgorodenergo division had an electrical safety lesson with children of the Rehabilitation Centre for Children and Youth with Disabilities in the village of Veselaya Lopan in Belgorod district.
Leading engineer of industrial control and safety of Belgorodenergo Tatiana Ryazantseva told the children about handling appliances, safe behaviour in the street, nearby power facilities, and at home. The children learned what to do if they saw bare wire lying on the ground or an open door of a transformer substation, which materials conduct electricity well and where it is dangerous to be during a thunderstorm.
They learned the goose step they need to get out of the danger zone of electricity, saw and were able to try on a suit and protective equipment of an electrician. Funny and instructive cartoons and quiz questions which they answered in unison helped the children consolidate their knowledge.
The event was held in the form of a festal day. The children were dancing, jumping, circle dancing, learned to overcome mountains and swamps, hunted lions with a giant electron, which caused a special delight with the kids, and blew soap bubbles.
"Our children always wait for such activities, the children and parents were very happy. The festal day was also informative and entertaining. Active games and animation captivated the children, they had an easy going dialogue. We cooperate with many institutions, but such events I have not attended yet," stressed the Centre's Director Irina Dolgikh.
For reference. The Rehabilitation Centre for Children and Youth with Disabilities treats about 75 children from different parts of the Belgorod region and other regions of Russia at the age of 5 to 18 years. The Centre specializes in infantile cerebral paralysis and disorders of the musculoskeletal system. In addition to medical care and treatment, specialists work with children - they teach them to adapt to life and household activities, develop speech, movements and creative thinking.