10.04.2014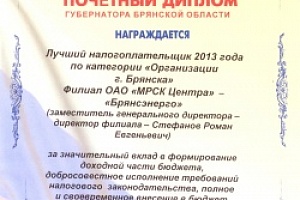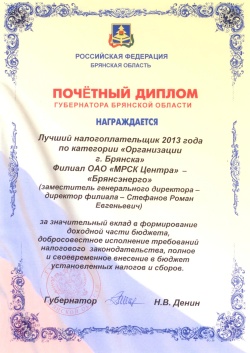 IDGC of Centre - Bryanskenergo division ranked among the top taxpayers of the Bryansk region. The company became one of the seven companies in the region, which made the greatest contribution to recharge the regional budget.
The ceremony of awarding the best taxpayers was held on April 7 in the Government of the Bryansk region. An honorary diploma "Best Taxpayer 2013" for the significant contribution to the revenue side of the budget, the conscientious performance of tax compliance, full and timely payment to the budget of established taxes and fees was given to Bryanskenergo's Director Roman Stefanov by Governor Nikolay Denin. Head of the region congratulated him with the honorable award and wished further success to the enterprise.
In turn Roman Stefanov thanked Governor for the high appreciation and assured that the branch would continue to strive to be among the organizations that form the image of the Bryansk land.
Best taxpayers of the Bryansk region for the past eight were determined by the regional authorities and Office of the Federal Tax Service of the Bryansk region. The main criteria for the selection of winners are high growth rate of tax payments to the budget and extra-budgetary funds, timely and full payment of taxes, timely filing of declarations, and high average salaries of employees.