28.03.2014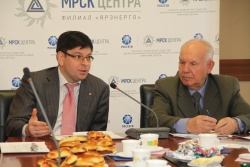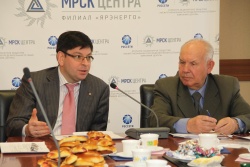 IDGC of Centre - Yarenergo division held a reporting and election conference of the Veterans' Council. Using the intercom it was attended by veterans living both in Yaroslavl, and in districts of the region. The conference elected new members of the Council, summarized the work of the veterans' organization for the past year and outlined plans for the future.
In 2014 the Council was partially renewed. The number remains the same – 12 people. Overall, the veterans' organization of Yarenergo today has 842 former employees of the company. 44 of them are veterans of the Great Patriotic War – combatants and home front workers.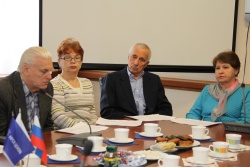 Chairman of the Council Vladimir Grachev reported on what was done for the period. Among the most significant events in 2013 – participation in the solemn meeting dedicated to the holiday on May 9, attendance in the opening ceremony of the substation "Novoselki", a visit to the museum of the Yaroslavl power grid, where Yarenergo's veterans hosted veterans of a generating company. With special warmth the power engineers recalled the holiday organized for them to the Day of Elderly Persons: many old friends and colleagues gathered together, former heads of the enterprise were invited, and the youth of the branch prepared their congratulations.
During the year, the veterans had their sanatorium-resort therapy. Nonworking pensioners, who are in a difficult financial position, were supported with the treatment.
In 2014, in addition to traditional events for holidays and memorable dates veterans will have tourist trips, excursions to facilities of the power system and meetings with young employees of the company. The plan of Yarenergo is to involve retired pensioners to judge competitions of professional skills and to conduct Safety Days. The company is sure the experience of the previous generation of power engineers is a significant resource that can be used effectively in the development of human resources.
The conference was attended by Acting Director of the branch "Yarenergo" Konstantin Kotikov. He listed the areas of work, which now the engineers focus on. This is consolidation of power grid assets and interaction with heads of rural settlements, reduced time for restoration work and maintenance of ROWs, improving observability of facilities, acceleration of the grid connection process and others.