24.03.2014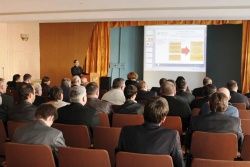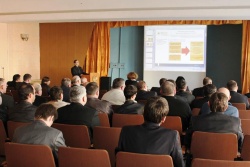 March 14 in Liskinsky Distribution Zone a meeting with heads of production units of Voronezhenergo was held: Service of power lines, Service of substations, Service of diagnostics, Service of relay protection and automation, etc. The traditional event summed up the execution of business processes in the past year and set tasks for 2014.
"Voronezhenergo is among the top three in IDGC of Centre for all production figures," informed, opening the meeting, Deputy General Director of IDGC of Centre - Voronezhenergo division director Ivan Kleymenov. "In the branch the production activities are based on three pillars: staff training, effective planning and strict control over work."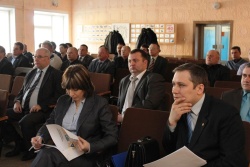 Deputy Chief Engineer – Head of Production Asset Management Centre Alexey Burkov in his report analyzed the results of work of units and subdivisions in the past year, noting a positive experience and areas for further improvement. In addition, he stated in 2013 overfulfilment of the repair program of the branch (100.4%) and significant at 33% over-fulfillment of the target values of one of its main indicators - clearing ROWs along 35-110 kV Conductors.
IDGC of Centre - Voronezhenergo division operated through the autumn-winter 2013-14 in a confident way, doing all the production tasks. This has great merit of specialists of Service of diagnostics, who as a result of the thermal control of electrical equipment in a timely manner identified defects at a number of substations. In total for 2013, 148 substations of 110-35 kV were examined, which is 34.5% higher than the planned target. The meeting agreed on the important role of specialists of Service of diagnostics in identifying technological violations while operating through the autumn-winter peak loads.
Head of Information Technology, Anatoly Pakhomov, in his speech summed up the interim results of the project on the establishment of digital voice and data communications over fiber-optic lines. In particular, he said that already 6 Distribution Zones are equipped with fiber-optic lines that run along power lines of Voronezhenergo. Implementation of new technologies allows the staff more quickly to solve production problems. Along with this Voronezhenergo invests in this project a minimum of funds: a cellular operator bears the main costs, which installs the fiber optic line on the branch networks for connection of consumers in the municipalities of the region.
Deputy Director for Technical Issues – Chief Engineer of Voronezhenergo Sergey Demidov announced the results of benchmarking (rating) of production units for the implementation of key business processes in 2013. Kalacheevsky sections of Service of substations and Service of power lines have the highest rating, the lowest – Voronezh section of Service of power lines.
Following the meeting current instructions were given to the heads of relevant units and the main challenges for 2014 were identified, among which are the wider development of IT-technologies, improving the quality of work in the SAP system, better organizing the preparation of documentation, etc.