21.03.2014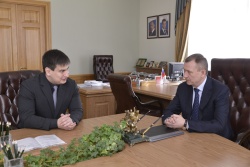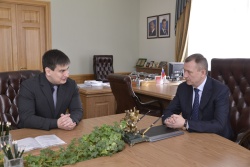 Governor of the Bryansk region, Prime Minister of the Bryansk region Nikolay Denin had a meeting with Deputy General Director of IDGC of Centre — Bryanskenergo division director Roman Stefanov. They discussed matters relating to the operation of Bryanskenergo through autumn-winter peak loads, consolidation of power grid assets, reliability, quality and long-term energy development in the region.
Nikolay Denin and Roman Stefanov discussed in detail the activities of the company as an electricity supplier of last resort in the Bryansk region. The conversation revealed the positive results of this work. In particular, while developing a common mechanism to transfer the status of a supplier of last resort to another legal entity in the region, according to the law, some positive experience was considered, which Bryanskenergo has in this sphere.
Telling the head of the region on the preliminary results of the operation of Bryanskenergo through the autumn-winter period, Roman Stefanov said that the total number of trips over the same period last year decreased by 8%, and the average time of elimination of technological failures was reduced. This was made possible thanks to the systematic and quality preparation of the equipment to work in extreme conditions, the implementation of the repair program, and high professional qualifications of the staff.
Summarizing the meeting, Nikolay Denin noted stable positive dynamics in the development and operation of Bryanskenergo recently. The governor expressed gratitude to the branch of IDGC of Centre for the successful, good-quality reconstruction of the substation "Gorodischenskaya" in Bryansk. This work resulted in an increase in the capacity of the power facility, which opened up new opportunities for socio-economic development of the largest district of the regional centre. "Power industry in the Bryansk region is a high-tech industry ensuring economic growth, sustained and stable development of the region," stressed Nikolay Denin.