17.03.2014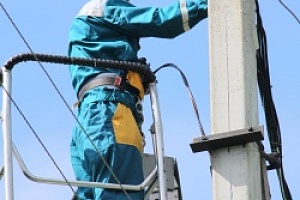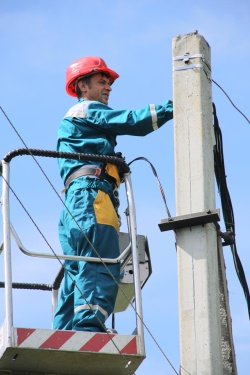 Staff development of IDGC of Centre is an important measure to reduce injuries, increase productivity and work culture allowing to support not only the reliability and quality of power supply, but also the efficiency of interaction with customers. Every year the company's employees improve their professional knowledge and skills, are trained in various programs.
IDGC of Centre - Yarenergo division in 2013 organized the training of 1,157 employees, accounting for about half of the company's payroll. And it is by 22% more than in 2012. The main part of the trained employees was specialists of the technical unit of the branch. Among them there are both senior managers: masters of Distribution Zones, service of substations, power lines - and workers: electricians of mobile crews, electricians for operation of distribution networks, electrical fitters.
Education and training was conducted for industrial operation, health, safety when working at height, as well as fire safety.
63 employees of the branch could Increase their professional opportunities, receiving a second occupation. The company has more engine operators now: of a boring and crane vehicles, aerial and aerial work platform; a manipulating crane; a lift truck of category B and C; slingers; manual welders.
75 workers were trained on the specialty "Tree feller". 31 employees will be able to use petrol and power tools in addition.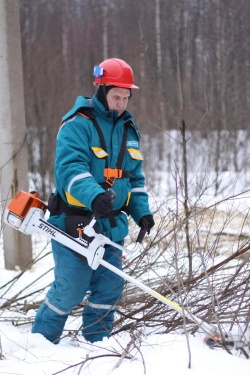 For 190 employees: electricians for operation of distribution networks, electricians of mobile crews - together with the Kostroma Power Engineering College named after F.V. Chizhov there was a visiting training organized on sites of Distribution Zones of the branch. Implementation of this ambitious project allowed to have a large number of personnel trained and at the same time to minimize the separation of staff from work, as well as to reduce the cost of travel expenses.
Particular attention is paid to the training of drivers. For power engineers transport is crucial. Yarenergo's crews should be able to quickly arrive at any, even the most distant facility. This is especially true in emergency situations, when electricity supply to consumers depends on the time to eliminate technological disturbances.
More than 60 drivers were trained under the program "Driving safety", and 20 employees - under the program "Person responsible for road safety". Regular training of drivers is aimed at reducing risks in driving office vehicles, prevention of road accidents.
For executive personnel of Yarenergo trainings and seminars were organized, which aimed at improving leadership and management. Increasing pace of development of the economy, industry, including energy production, requires constant professional development, mobility, adaptability of people to the changing conditions. Success of any process depends on the correctness and timeliness of this or that decision. This is especially important when the company's activities affect the interests and rights of citizens.
Within the framework of developing the system to provide value-added services, allowing to find additional sources for grids upgrading, employees of customer interaction were trained to acquire the skills to be active and personal sales.
The company organized a training course for new employees on the program "Safety in Electrical Power Industry", specially adapted to the specific work of Yarenergo.
The main partners of Yarenergo in occupational training and retraining are the Kostroma Power Engineering College named after F.V. Chizhov, Ivanovo State Power University named after V.I. Lenin, Tver Training Centre, Vologda private educational institution "Energetic", St. Petersburg Power Engineering Training Centre.