22.01.2014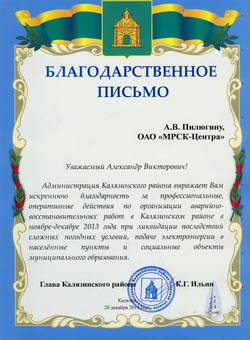 Kurskenergo received a letter of appreciation from the authorities of Kalyazinsky district in the Tver region «for professional, prompt actions in organizing first responding and restoration operations in December 2013 in the aftermath of severe weather conditions». The corresponding letter addressed to Deputy General of IDGC of Centre — Kurskenergo division director Alexander Pilyugin came from the district head Konstantin Ilyin.
Please, be reminded that abundant snowfalls in the Tver region in early December caused wet snow on wires and falling trees onto power lines, which led to massive blackouts in several areas. A total of 921 settlements were without electricity.
To eliminate the effects of bad weather crews from neighbouring regions were sent to help Tver power engineers. From Kurskenergo the repair and restoration work involved three crews of increased mobility of 18 people. For eight days, working seven days a week, the Kursk power engineers were eliminating damage to power lines and clearing blockages formed. In total, they restored 13 kilometres of power lines and 10 poles, cleared more than two hectares of ROWs.
Thanks to the clear and well-coordinated work of Kurskenergo's specialists in the shortest time it became possible to restore power supply to settlements and socially significant facilities of Kalyazinsky district. Equally promptly the restoration work was completed in other affected areas of the Tver region too.