17.01.2014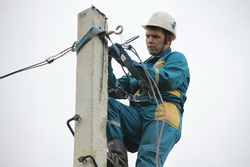 In 2013 Nekouzsky Distribution Zone of IDGC of Centre — Yarenergo division invested more than 3 million rubles into the core activity. With efforts of the power engineers power lines and substation equipment were repaired, new customers were connected to power grids, and development of additional services of the energy company was continued.
The main task of the power engineers is to increase the reliability of power supply. To achieve it the attention of specialists of the branch during the reporting period was paid to improve the technical state of the electric grid. In Nekouzsky district 32 transformer substations were renovated, 266 poles and 327 insulators were replaced. In the villages of Ugol, Chesnava, Rodnaya, Latskoye and several other settlements overhead lines were repaired — a total of about 46 km.
The district power engineers executed 46 contracts for grid connection. Most new customers are located in the villages of Ilyinskoye, Upper Nikulskoe, Azherovo and Big Dyakonovo. In total, within the contracts approximately 0.4 MW connected capacity was provided.
Compared with 2012 Nekouzsky Distribution Zone by 23% increased the volume of additional services provision. These include support of grid connection contracts, installation and maintenance of metering devices, as well as maintenance of street lighting fixtures.