17.01.2014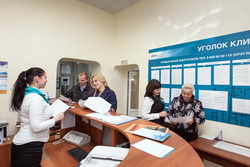 In December 2013 two Customer Service Centre of IDGC of Centre — Lipetskenergo division in Dankov and Lipetsk celebrated their 5-year anniversary of the opening at the same time.
During this time, 51151 visitors came to them, most of whom 77% were individuals.
The most popular services among customers remain connection to the power grid — 20679 requests, installation of electricity meters — 7340 requests and other matters related to the competence of the power company.
Today 3 Customer Service Centres operate successfully in the service area of Lipetskenergo — in Lipetsk, Yelets and Dankov, contacting which consumers can get all the necessary information on energy supply, become familiar with the appropriate documentation of legal, technical and organizational measures and leave their application to provide additional services and grid connection.
For maximum convenience and comfort of the process of interaction with customers Lipetskenergo constantly improves the quality of service and professional competence of employees actively using modern technologies and communication channels. The best proof of the effectiveness of this work is received by Lipetskenergo letters of gratitude from consumers.
Please, be reminded that you may also contact specialists of the company on the phone of the single Call Centre of the company at 8-800-50-50-115 (toll free) and via the Internet reception on the website of the company at http://www.mrsk-1.ru