16.01.2014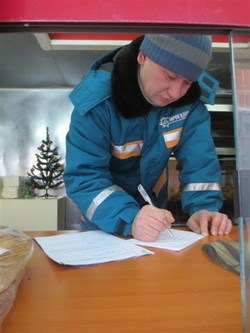 IDGC of Centre — Smolenskenergo division continues to fight the theft of electricity. Conscientious consumers suffer from the actions of citizens who are illegally connected to power grids or violate a metering system. Theft of electric energy primarily affects the amount of losses of the grid company. It also reduces the quality of power supply, there is a risk of failure of electrical appliances.
In addition, a grid connection bypassing the grid organization is performed by non-professionals in a «primitive» way. In such cases, any unauthorized connection to the grid can lead to malfunction of grid equipment and electric shock to violators themselves.
January 14 specialists of IDGC of Centre — Smolenskenergo division in connection with requests of residents of Smolensk held an unscheduled raid to identify unauthorized connections of some shops to power grids of IDGC of Centre.
Two crews of the electric energy measuring and optimizing losses office of Smolensk city Distribution Zone led by Deputy Chief for development and sale of services Anton Balakin identified a fact of non-contractual electricity consumption of one small shop, located at the intersection of Suburban and New Kiev streets. In fact, the owners of the shop performed an unauthorized connection of the movable shop to the grid of IDGC of Centre and used electrical energy without conclusion of a contract in the prescribed manner. Thereby the owners of the outlet performed theft of electricity.
In regards to the owner of the point of sale, convicted of illegal grid connection, an official act of non-contractual consumption of electric energy was drawn up. On the same day the operational and dispatch service of Smolenskenergo disconnected the facility from the distribution grid of the branch.