19.11.2013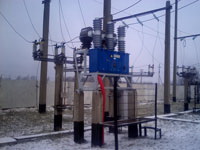 Kostroma power engineers of IDGC of Centre have launched the first phase of the complex reconstruction of the 110/35/10 kV «KPD» in Volgorechensk. For Kostromaenergo the substation upgrade is a major investment project, the implementation of which in the 2013 investment program takes seventy million rubles. Twenty- five million will be invested in this facility by Kostroma branch of IDGC in 2014. The facility will be equipped with the latest equipment that meets modern requirements. The premises of the substation will be expanded.
The substation is located in the industrial zone «Volgorechensk Pipe Plant», being a key centre for power supply of the enterprise. Since last year the plant has been implementing already the second investments project — the construction of a workshop for the production of medium-diameter pipes for the oil and gas industry. Grid connection of the new shop requires complete modernization of the substation «KPD», constructed in 1986. The physically obsolete substation equipment cannot provide the necessary capacity of the growing company and cope with increasing loads. The power consumption of the new plant will be 9.5 MW, with a total plant capacity of 20 MW.
To increase the capacity it is planned to install at the substation two new 110 kV power transformers of 25 MVA each. To date, the power engineers have already dismantled one of the old transformers, the work is underway to assemble a new one. The «KPD» has also a new substation control house installed. This is a block-modular building with a floor area of the interior of more than 100 square meters, which will house all the systems that support the operation and management of the substation equipment.
The reconstruction involves not only the replacement of obsolete equipment, but also the use of technological innovations. In 2014, when the branch will proceed to the second stage of modernization, the substation will have new outdoor distribution switchgear installed with the replacement of isolating and short-circuiting switches for gas-insulated ones. It is planned to transfer the electromechanical relay protection to microprocessor based, the creation of a modern system of remote control and telemetry. Installation of operating dc voltage batteries will contribute to significant increase in the reliability of the substation equipment in the normal and emergency operation modes.
The reconstruction of the substation goes without disconnection of consumers. The equipment is disconnected in stages.