07.11.2013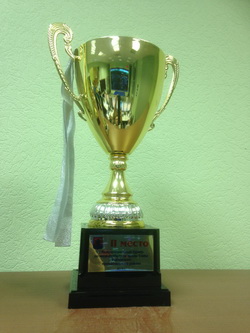 The team of futsal of Yarenergo for the first time took part in the major inter-regional competitions that were held over the weekend in the city of Rybinsk. The debut performance of Yarenergo's players in this tournament was crowned with silver medals and a cup.
For two days, November 2 and 3, the team of Yarenergo was competing against the strongest teams of the Yaroslavl, Vologda, Novgorod, and Kostroma regions. In the final match with the Rybinsk team «Lightning» the regulation time of the game ended in a draw 4:4. Outcome of the match was decided with penalties. Luck was on the side of the Rybinsk team. As a result, Yarenergo took the 2nd place prize.
In total for the winning cup 30 teams competed from different parts of Russia. Among the participants in the tournament there were professional players, representatives of the amateur league. According to the Yarenergo's team captain Ruslan Trubin, the 2nd place was won in an uncompromising struggle, and that this award is more valuable, «silver» is the result of hard training and an additional incentive to higher achievements of the branch team.
In addition to the cup and medals the treasury of Yarenergo's team got a statuette «The best player of the tournament» — it was presented to Roman Aliyev with the unanimous decision of the judges for the mastery of the ball possession and the number of goals scored. Ahead of the power engineering athletes there are new competitions — Sports Days, dedicated to the professional holiday, the Day of Power Engineers. This year Yarenergo's team will also show their mastery in the annual sports days of hydroelectric power plants.
Futsal in Yarenergo is very popular: all 18 Distribution Zones have soccer teams, the team of Yarenergo performs at sports games of IDGC of Centre, as well as in matches with other organizations and associations.
«Soccer develops personal qualities such as determination, stamina, concentration on achieving a goal, the ability to communicate with people, and make non-standard decisions that are so necessary for power engineers. But above all soccer is a team game, it brings us together and helps us in life, work. Energy is an industry where only a united strong team can achieve results,» says Ruslan Trubin.