31.10.2013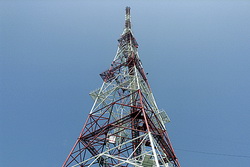 IDGC of Centre — Belgorodenergo division provides grid connection to electric networks of new and upgraded stations of the digital broadcasting television, which was launched in the region in December 2012.
To date, digital TV has already covered 15 districts of the Belgorod region and the city of Belgorod. To go to the advanced technologies to broadcast television and radio channels both the existing stations and newly constructed ones are used in the framework of the Federal Target Program «Development of TV and radio broadcasting in the Russian Federation for 2009 — 2015», approved by the Government of the Russian Federation on December 3, 2009 # 985.
Belgorod power engineers have performed work on grid connection to the networks of television and radio broadcasting facilities in Belgorod, Ivnyansky, Veydelevsky, Korochansky, Krasnensky, Borisovsky, Gubkinsky and Prokhorovsky districts. To this end, in the region around 4 kilometers of power lines were constructed and 5 transformer substations were installed. In this case, pole mounted transformer substations with capacity up to 50 kW were most often used as a source of power supply, designed to connect consumers to networks with small customer contract demand.
In particular, in Veidelevka power supply for a radio and television transmitting station the staff of the Distribution Zone constructed a 10 kV overhead power line and installed a two-transformer package substation. A ninety meters TV tower was connected in the isolated farmstead of Kozhanov in Prokhorovsky district. The power engineers constructed two taps from a 10 kV overhead line with its length of about 2.5 kilometers and installed two pole mounted transformer substations. The power engineers also increased reliability of a number of energy facilities d.
In the regional centre digital television broadcasting came with the commissioning of a new urban radio and television station with its height greater than 220 meters and capacity of 650 kW. Power supply of the facility was provided by power engineers of the Belgorod Distribution Zone. Digital broadcasting is provided by a transmitter of 5.0 kW, the coverage of which, along with Belgorod includes adjacent areas with a population of 370 thousand people. To supply the facility with the customer contract demand the power engineers constructed 10 new and reconstructed three existing cable lines of 6 and 0.4 kV, and increased capacity of transformers in the transformer substation, which the new TV tower is powered by.
Until the end of the year, in the region it is planned to connect several digital TV stations to the networks, and by the end of 2015 to cover their entire region with them.