25.10.2013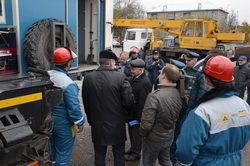 Power engineers of IDGC of Centre — Tambovenergo division participated in a review of emergency preparedness and first responding and repair crews involved in the elimination of failures at energy and utility facilities in the autumn-winter period of 2013-2014.
The event was part of the visiting session of the Commission on the Prevention and Emergency Response and Fire Safety of the Tambov region under the leadership of the deputy head of the regional administration Alexander Sazonov, assessing the readiness of forces and means of rescue units of housing and communal services and energy sectors to work in the autumn-winter period.
Tambovenergo was represented at the review by a crew for operation of transformer substations and distribution points headed by the chief of the Tambovsky Distribution Zone Yury Ulyanov. The power engineers demonstrated that they possess all the necessary resources for the successful solution of the most difficult tasks to eliminate emergency situations at their assigned sites. A clear proof of this was the presented at the show special vehicles of the Tambov branch: crew vehicles, cranes, aerial platforms, etc.
The commission members highly appreciated the level of preparedness of the power engineers.
«In recent years there has been a qualitative improvement in the level of work in the field of civil protection and rescue techniques. Precise coordination of actions of the government and representatives of the Ministry of Emergency Situations, power engineers ensures reliable operation of utilities, power equipment, and uninterrupted power supply to consumers,» underlined its head Alexander Sazonov.
Also during the visiting meeting, representatives of Tambovenergo discussed with the leadership of the region, representatives of the Ministry of Emergency Situations and large enterprises a sequence of actions in the event of an emergency.
For information:
In preparation for the work during the autumn and winter period, all Distribution Zones of Tambovenergo are equipped with mobile and portable diesel power plants. At the disposal of the branch there are 91 secondary power supply sources, 101 special vehicles, 80 first responding and repair crews, a total of 498 people, equipped with all necessary safety gear and tools.