25.10.2013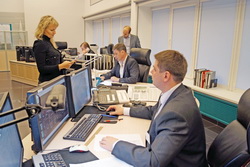 IDGC of Centre — Kurskenergo division took part in the command and staff exercises organized by the General Directorate of the Russian Ministry of Emergency Situations in the Kursk region.
The subject of the exercises was to work out interaction of operating and dispatching personnel of Kurskenergo, duty personnel of the Crisis Management Centre of the regional Office of the Russian Ministry of Emergency Situations, specialists of utilities of Kursk in a complex scheme-setting operation mode with limited time to make a decision.
According to the scenario of the exercises, one of the substations due to the destruction of the tank of an oil switch spilled oil with subsequent ignition, and the overhead lines of 110 kV «Ore» — «Khomutovka», «Kursk» — «CHP-1» were disconnected. As a result of the incident the electricity supply of 12 municipalities in the south-western part of the Kursk region was interrupted.
The exercise participants worked quickly. More than 20 special vehicles arrived at the scene: fire trucks, aerial platforms, ambulances of emergency medical care. Firefighters quickly mastered the «ignition», having extinguished it with foam.
Operators of Kurskenergo competently supervised first responding mobile crews who performed the necessary switching. To provide electricity to social facilities redundant power supply sources were promptly connected.
Clear actions of the Kursk power engineers and other participants in the exercise allowed for a short period to eliminate the consequences of the conditional technological violation and supply electricity to the de-energized communities.
The professionalism of the staff of Kurskenergo was highly appreciated by the attending the exercises mediators and supervisors. Summing up the training, the deputy chief of the General Directorate of the Russian Ministry of Emergency Situations in the Kursk region Vitaly Lazarev thanked the branch's staff for their professionalism. He noted that such trainings contribute to the coherence of actions of all units, allowing at emergencies as soon as possible to ensure the normal functioning of all important facilities of the city and the region.